INTERNATIONAL PROGRAM SALES
About STV
STV (The Sapporo Television Broadcasting Co.,Ltd.) was established in 1958.
We started as a terrestrial television broadcasting in 1959. STV operates in the large broadcast area in Hokkaido, which has a population of about 5.5 million and makes up 22% of Japan's landmass, is blessed with beautiful natural resources. STV is Hokkaido's No.1 TV station in terms of 'Viewing Rate (from 06:00 to 24:00)' for over 25 years. STV is now exciting !
Corporate Info
【Company Name】The Sapporo Television Broadcasting Co.,Ltd.
【Established】April 8, 1958
【Capital】750 million yen
【Launch】TV (April 1, 1959)
【Net Sales】16,011 million yen (FY 2018)
【Ordinary Income】1,294 million yen (FY 2018)
【Number of Employees】226 (As of March 31, 2019)
【Representative】President Toyoaki Negishi
【TV Network】NNS (Nippon Television Network System)
【Headquarters】1-1 N1W8 Chuo-ku, Sapporo, Hokkaido, JAPAN, 060-8705
Tel: +81-11-241-1181
【Access】
JR: 15 min walk from Sapporo Sta.
Subway: 10 min walk from Odori Sta.
Bus: 1 min walk from N1W7 bus stop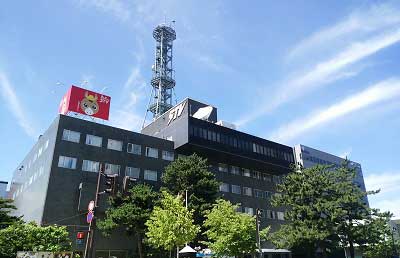 Contents Sales
We STV produce a lot kinds of programs for both domestic and abroad.
We have lots of experience in international sales and have over 1,600 episodes in all HD format. And also we've been making 4K programs. Now dealing with over 60 countries including CATV, VOD, IPTV, inflight all over the world. STV's programs are very popular. Also we are open for co-production.
Broadcasting

Inflight

Co-production
Contact us
Please send us an e-mail with the necessary information below.
If you have any questions, please feel free to ask Int'l sales team.
・First Name / Last Name
・Company Name / Country / Company HP
・Email
・Questions / Request
Mail